What does Dwell time mean?
In a context of proximity, dwell time is the length of time that a mobile user spends at a particular location before exiting such location.
What is the Proximity Dwell Trigger designed for?
Proximity dwell Trigger gives you the opportunity to deliver just-in-time content to your mobile users' devices when they remain a predefined amount of time at the selected location. It provides you with much more control over when a user should receive a location-aware campaign and helps to eliminate users who may be only passing through your location.
How to configure dwell time triggers in the MOCA Console?
Enter console.mocaplatform.com with your user.

Enter an App.

Enter a Campaign.

Enter an Experience.

Locate trigger options.

Click "On Dwell" and establish the Dwell time in minutes.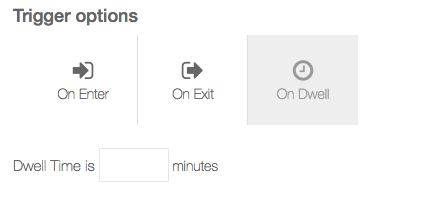 Dwell trigger is available on the following MOCA SDKs:
Android 2.6 and above.
iOS 2.5 and above.