The MOCA Console App Privacy screen shows you the data retention windows for each kind of data we collect: generic user data, user location data, proximity events and in-App events.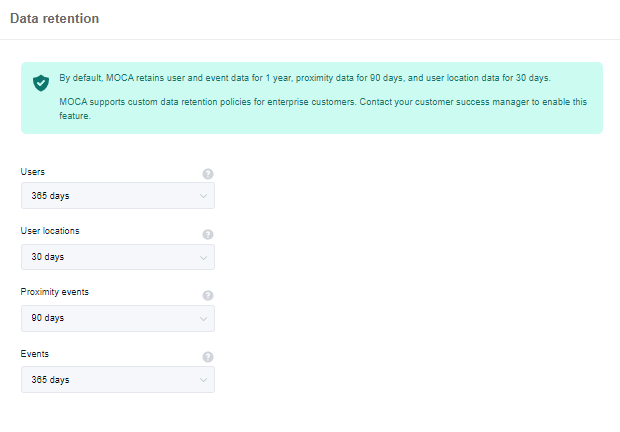 What is each type of data collected?

Users refers to the profile data of the App users. This can include user name, gender or last time the user opened the App.

User locations refers uniquely to the location data each user has shared with the App and is used to represent heatmap information.

Proximity events is all data gathered from entering or exiting Beacons and Geofences.

Events refers to in-app events a user has triggered, like for example login or in-app navigation.
By default, MOCA retains user and event data for 1 year, proximity data for 90 days, and user location data for 30 days.
MOCA supports custom data retention policies for enterprise customers. Contact your customer success manager to enable this feature.
To navigate to your Privacy panel follow these steps:
Log into your MOCA Console Account.

Navigate to your App.

Find the tab on the left menu and click on it.